Nona Burns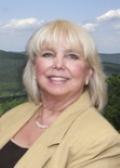 My name is Nona (Stevens) Burns and I am a sales specialist at CENTURY 21 H.S.V. Realty.
I was born in Illinois, gradutaed college in Iowa, and have lived in New Jersey, Texas and Missouri. Each of those states has its own beautiful regions, but none can compare to our wonderful Hot Springs Village! Its scenic mountain and lake views, ten championship golf courses and mile after mile of rolling hills in the nation's largest gated community make our "Village" incomparable to any other.
Having served alongside my husband in the pastoral ministry for 32 years, I have 37 years experience in serving others. I am strongly committed to serving my clients diligently with integrity and equality.
Whether you are looking for a lot to build on later, an investment property, or a permanent residence (new construction or pre-owned) it would be my sincere privilege to assist you until you find just what you want.
I am looking forward to meeting you!