Terrie Davis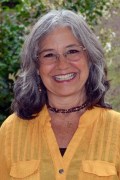 Terrie Davis was born in Los Angeles, California to parents of the entertainment industry. Her father had been a Director and her mother, an Actress, best known as Gail Davis, of TVs Annie Oakley. Her Mom was also a native Arkansan, which is how Terrie returned to familiar stomping grounds, when she moved to HSV over 10 years ago.
Prior to HSV life, Terrie went from LA to Hawaii in 1970. It was in Hawaii that she found her own love of the film industry, not in front of the camera but on the production side. She worked around the states, ending up in Dallas for many years as associate director for the children's television show Barney and Friends…her favorite project!
In 2002, she came to Arkansas to accept the honor of her Mom being placed in the Hot Springs, Arkansas Walk of Fame. She was handed a brochure of the village at that time, which immediately sparked interest. In 2004, after reconnecting with her Arkansas friends, Terrie landed in Hot Springs Village, a move which has brought her home to stay. She became a realtor in 2005 and is now working as an agent for CENTURY 21 HSV REALTY.
Terrie's life is split between her love of helping people which she incorporates well thru her real estate transactions and the love of sharing her mother's legacy which she continually works in different mediums. Terrie has worked most recently with The Old State House Museum in Little Rock where some of her Mom's memorabilia is currently on display within the exhibit "Lights, Camera, Arkansas!"
Fun Fact: In 2003 and 2004 Terrie was contacted by Roy Rogers' daughter, Cheryl to ride horseback in the Pasadena Tournament of Roses Parade. Twelve riders, all of them offspring of the western stars, were able to honor their parents' heritage. Awesome experience!
------------------------------------------------------------------------------------------------------
More info:
Terrie has worked with The Gene Autry Museum of Western Heritage in Los Angeles, California, and The National Cowgirl Museum and Hall of Fame in Fort Worth where her Mom was inducted into the Cowgirl Hall of Fame in 2004.
Terrie's Listings