Monita Collins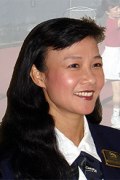 Let her put her professional knowledge, diverse background, international experience, along with her cheerful and energetic personalities to work for you. Monita Collins has more than twelve years of experience in real estate as a REALTOR® and Executive Broker with CENTURY 21 H.S.V. Realty. She has been awarded the honor of 'Agent of the Year' in 2010, 2011, 2013 and 2014 by CENTURY 21 H.S.V. Realty.
She is originally from Hong Kong, where she worked with the Hong Kong Trade Development Council in promoting business for the Import/Export companies and manufacturers in Hong Kong by connecting them with buyers from other countries. She has lived in Hong Kong, China, Singapore, Indonesia, before moving to the United States. She speaks and writes fluently in English, Chinese (both Cantonese and Mandarin), as well as Indonesian/Malaysian, Her spoken and written skill in French is also at a comfortable level for basic communication.
She and her family purchased their first property in the Village in 1989 and they moved here in 1997 with their two young sons. Her interests are fitness, golf, tennis and most outdoor activities. She is actively involved in the Hot Springs Village Tennis Association and competes in state and local tournaments. She also participates in church and charity functions, and she is the Liaison Officer for the HSV Asian American Association.
"I believe in living life to the fullest - working hard and playing hard. Every morning when I awake, I am excited about beginning a new day and the experiences that are awaiting me." Monita
Monita's Listings
HOT SPRINGS VILLAGE (FOUNTAIN LA
HOT SPRINGS VILLAGE (JESSIEVILLE
HOT SPRINGS VILLAGE (JESSIEVILLE