Hot Springs Village Resort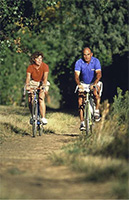 Hot Springs Village, a recreational resort community in Arkansas' Ouachita Mountains, near Lake Ouachita National Park, is the largest gated community in the U.S. encompassing 40.7 square miles.
Hot Springs Village offers year-around golfing at 9 professionally designed golf courses, 15 professionally surfaced tennis courts, fishing, boating, water-skiing, and swimming in 11 pristine recreational lakes, over 20 miles of walking trails, 200+ clubs and fraternal organizations, and many more activities for all ages.
The Hot Springs Village lifestyle has attracted people from all 50 states and numerous countries around the world. Homes in Hot Springs Village vary from very affordable townhomes to affluent waterfront retreats, with an average sale price of approximately $180,000.
When compared to other full-service resort communities, Hot Springs Village fares as one of the most affordable places to live in the country! Come vacation in Hot Springs Village . . . you just may decide to stay for a lifetime!